---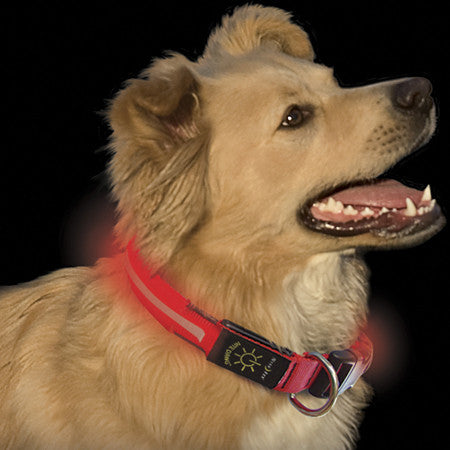 NiteIze Nite Dawg Collar
The Nite Ize Nite Dawg LED Light-Up Dog Collar is the answer to every night-loving dog owner's problem: losing sight of their best buddy after sundown. Made of high quality nylon, this lightweight, durable collar houses a flexible, light-transmitting polymer core that illuminates when the collar is turned on. A reflective stripe adds additional safety by providing passive reflectivity. Powered by a super-efficient (100,000 hour) LED, it's literally a brilliant way to keep your dog safely visible-to you, to other people, to cars-during any late-day or early morning outing.

Available in two colors and three sizes, the Nite Dawg collar has two mode settings, flash and steady glow. Fully weather-resistant, visible up to 1000 feet in the dark, and powered by a long-life, easily replaceable battery (included), it's simply the best way to keep your dog's presence clear and obvious, from dusk till dawn. (Extra-effective when paired with the Nite Dawg Leash.)

Bright Red LED
Reflective stripe adds passive visibility
Glow and Flash Mode
Battery run time:
Glow mode: 75 hours
Flash mode: 100 hours
Easily replaceable 1 x 2032 3V lithium battery included
Available in Red & Orange Webbing
3 adjustable sizes available:
Small: 10" - 13" (25cm-33cm)
Medium: 13" - 18" (33cm-46cm)
Large: 18" - 27" (46cm-69cm)
Dimensions (Small): 15.00" x 1.39" x 0.62" | 381.00mm x 35.40mm x 15.90mm
Dimensions (Medium): 19.00" x 1.42" x 0.62" | 482.60mm x 36.00mm x 15.90mm
Dimensions (Large): 27.12" x 1.42" x 0.62" | 688.84mm x 36.00mm x 15.90mm
Weight (Small): 2.43oz | 69.00g
Weight (Medium): 2.79oz | 79.00g
Weight (Large): 3.39oz | 96.00g
Features a strong metal D-ring, quick release buckle and weather resistant push-button switch.